Past Events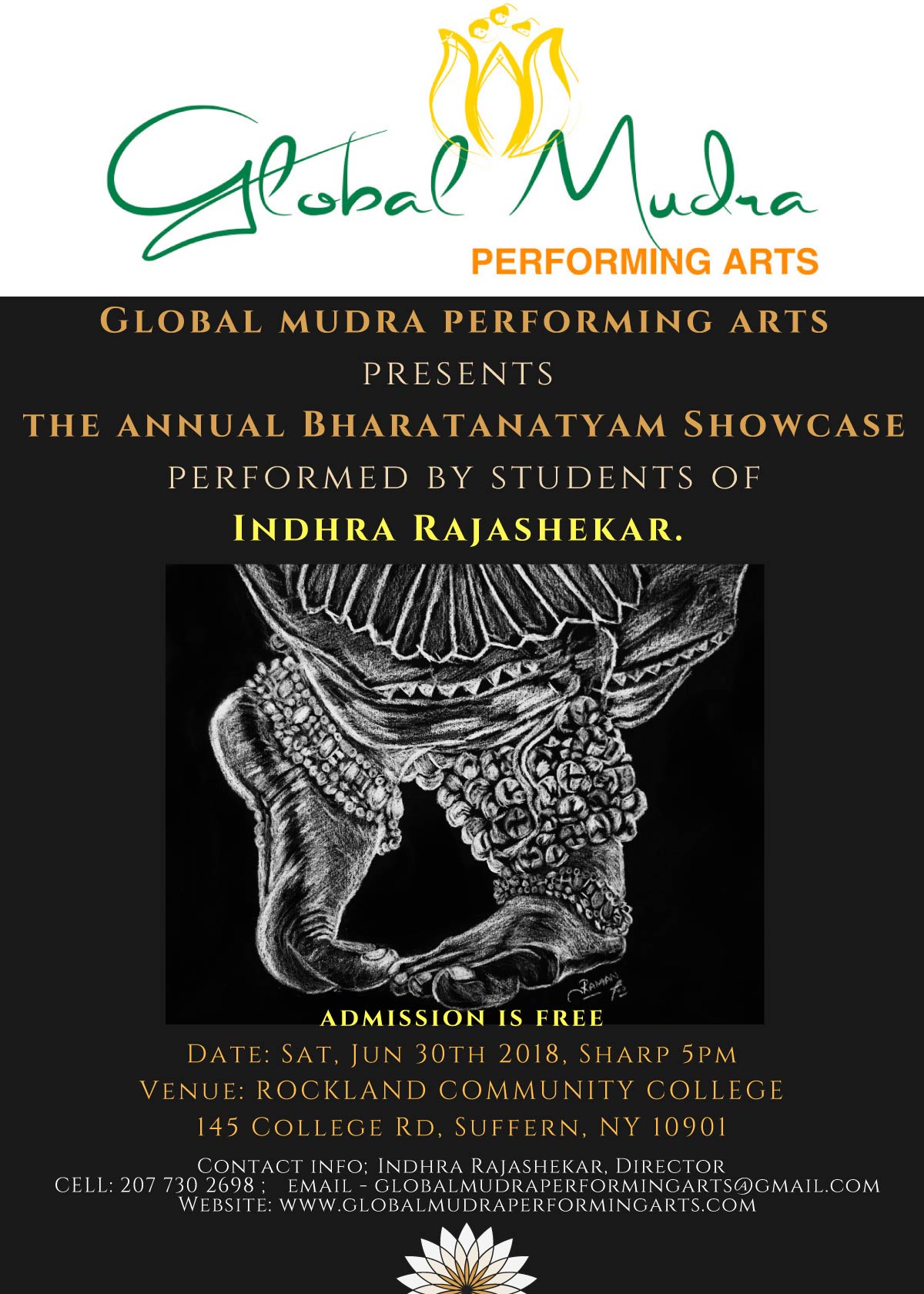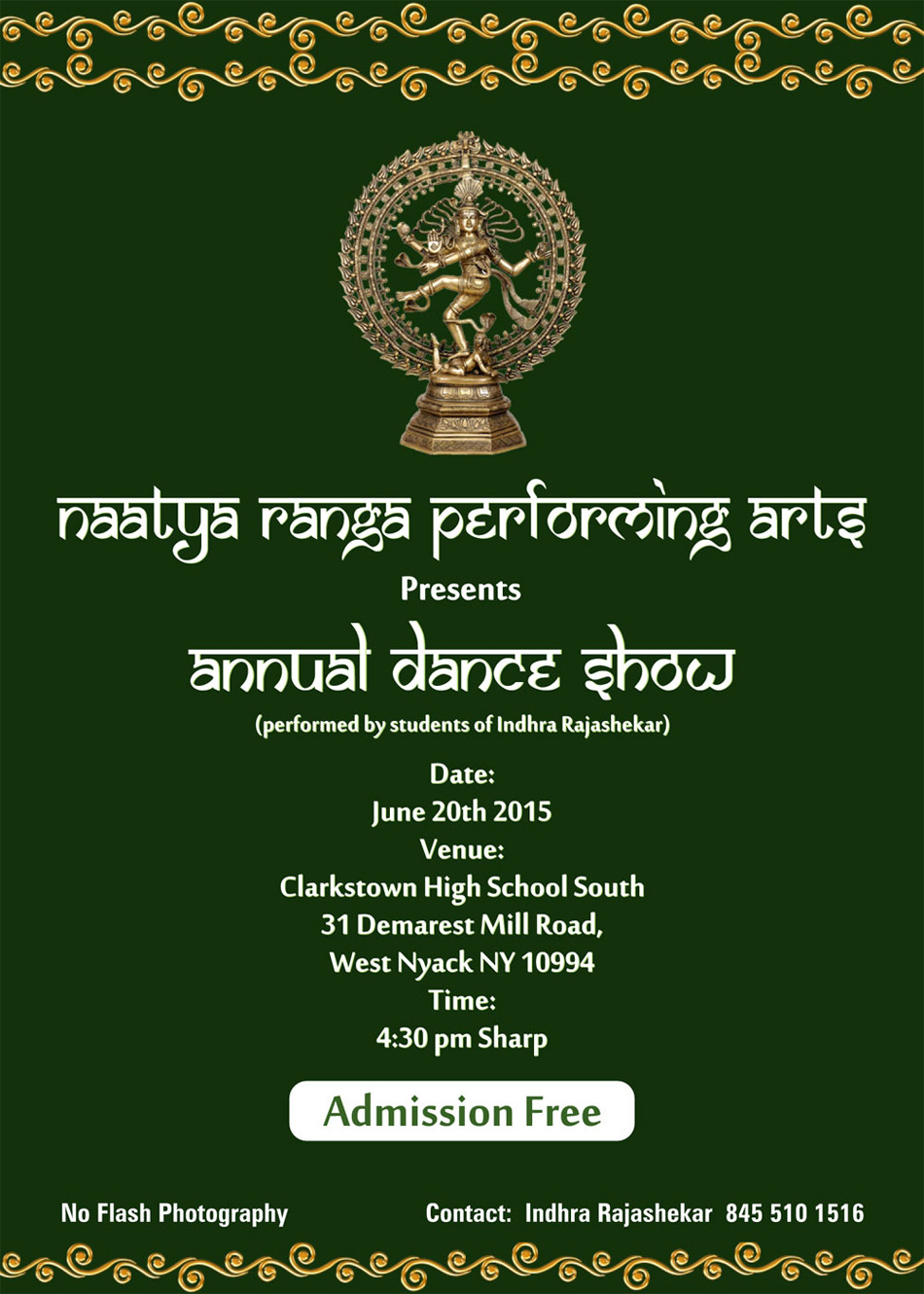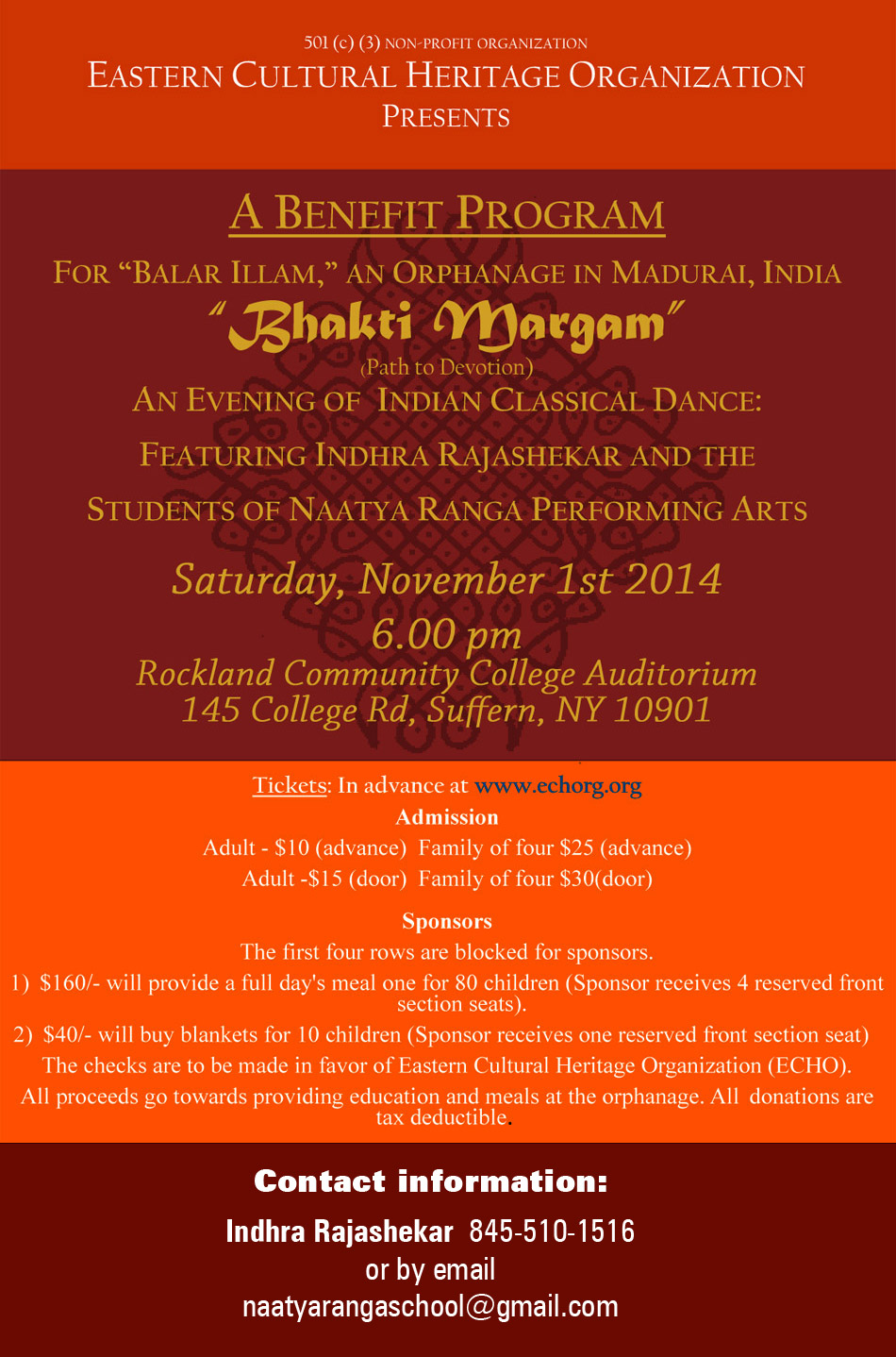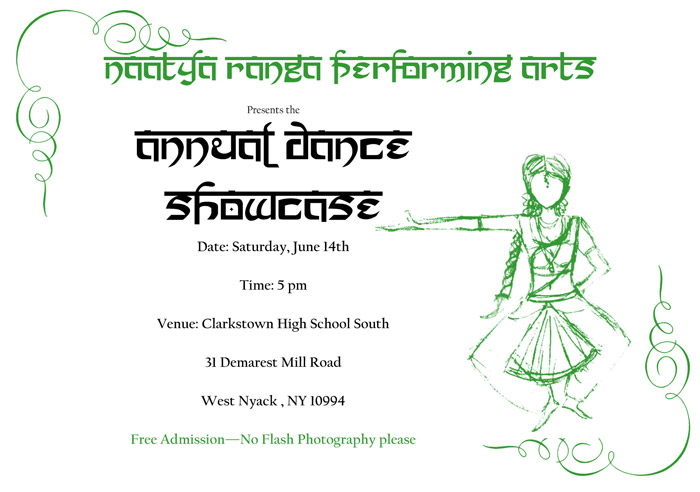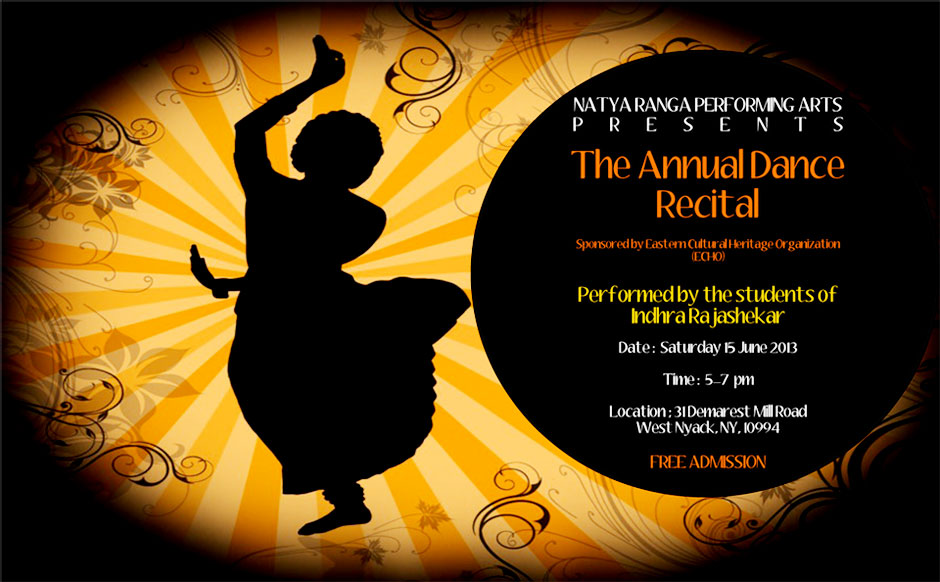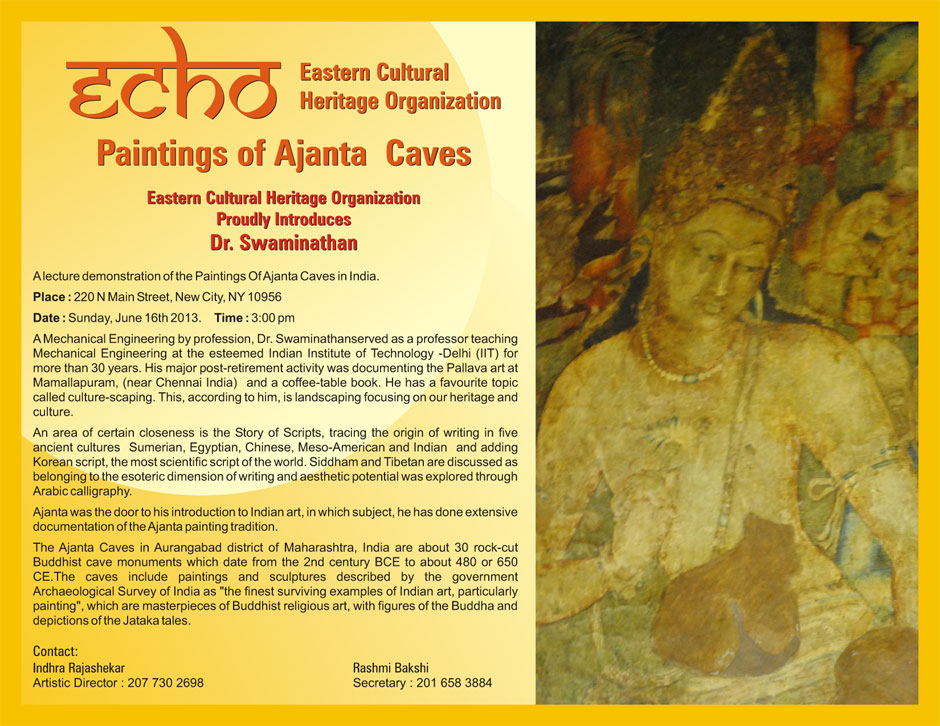 Dance Workshop
ECHO organized a week on long Indian Classical Dance (Bharathanatyam) workshop by the Visiting Artist of Kalashetra, Chennai, India. This was organized with a vision to provide an opportunity for the aspiring young students to learn from an accomplished artist from Chennai, India.
A week long work shop conducted by Mr.J Suryanarayana murthy, of Kalashetra.Suryanarayana Murthy, a seventh generation Performer Teacher belonging to one of the 15 original traditional Bhagavatulu families of dancers and teachers of Kuchipudi village in Andhra, had his initiation into Kuchipudi dance at an early age. He underwent training at Kalakshetra in Bharatanatyam for three years and continued further study at Bharatha Kalanjali under the Dhananjayans
Please contact 845 510 1516 for further information.
---
A brief description Pluralism project and the Organization
Pluralism project "Unity in Diversity" held on May 11th - 2013. 'Unity in Diversity' was presented by the Eastern Cultural Heritage Organization (ECHO), a not-for-profit organization. We are bringing different religious leaders together for panel discussions. Through this project, Eastern Cultural Heritage Organization wishes to highlight the cultural fabric of Rockland County, to foster and create an awareness of its rich cultural diversity. There will be storytelling, Indian classical dance, and a performance of fusion music by the local artists. The theme of our event is, "Pluralism and Intercultural Communication."
In a stressful time of polarization and rising intolerance, the Eastern Cultural Heritage Organization (ECHO) is committed to developing cultural awareness and intercultural dialogue, through the artistic expressions of dance, music, theater and visual arts. ECHO offers high quality cultural programs to the art-loving public, promoting understanding and appreciation of Indian art forms, and reaching out to other cultures to encourage universal understanding. Our organization is committed to serving and unify communities through arts.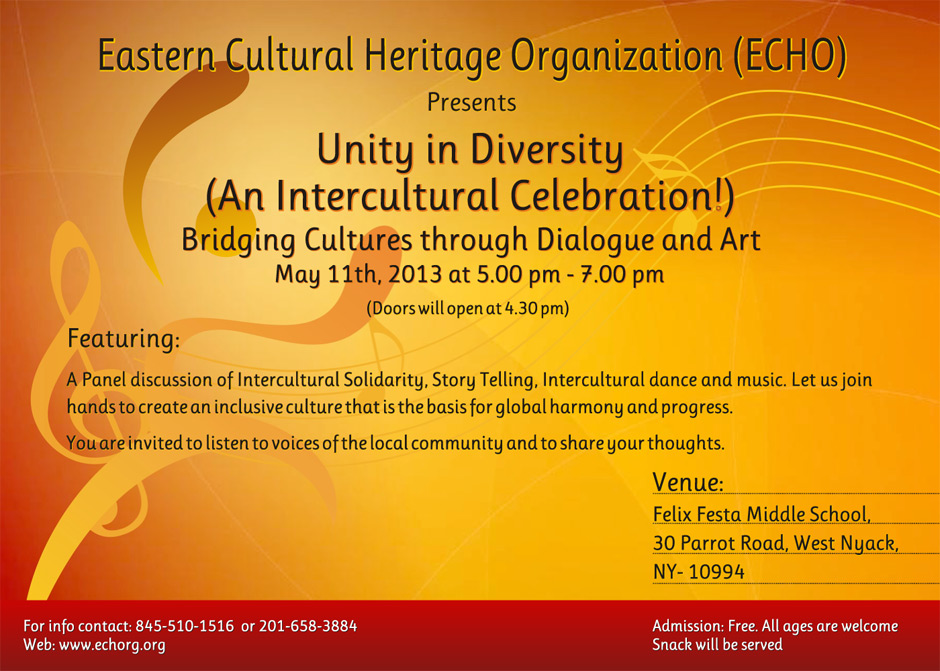 Unity in Diversity - Photos
---
Outreach Program, 10th November 2012
Dear Friends and Music students and enthusiasts,
Dr. Karaikudi S. Subramanian has graciously consented to give a lecture demonstration this Sat Nov 10th in our house (27 New Valley road NEW CITY NY 10956.) This is a rare opportunity to meet and hear from a music maestro in Rockland county NY.
The lecture demostration will start sharp 5 pm and will end by 7 pm. Dinner will follow there after.
Dr.Karaikudi Subramanian will be showcasing the teaching methodology COMET (Correlated Objective Music Education and Training) which he has developed and showing all the possibilities for improvement for various levels of students for music. For example vocalists, dancer's, instrumentalists and so on. Another main aspect is the relationship between Veena and Voice. This will be the agenda for Saturday. If you have any questions please give us a call.
Donation of $15 or more is appreciated.
Dr. Karaikudi S. Subramanian
Dr. Subramanian, who earned his Ph.D. in Ethnomusicology from Wesleyan University, learned the veena from one of its greatest masters, his grandfather Karaikudi Sambasiva Ayyar. Dr. Subramanian has served as Professor of Indian Music at the University of Madras. He is also Director of Brhaddhvani Research and Training Centre for Musics of the World, which he established in Chennai, South India. He has released several CDs of his veena playing
Parking: Please do not park you car in the driveway but park it in the parking lot which is across from the corner Quick Stop Deli and behind Bombay Grill Restaurant.
Venue: :
27 New Valley Road, New City, NY 10956
Contact: 845 510 1516
---
Sangeetha Ranga Series, 18th August 2012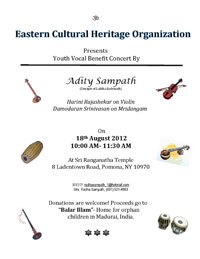 Click to enlarge
The event was fund raising for Balar Illam, an orphanage in Thirunagar Madurai. The contributions went towards food fund for the children.
Click to enlarge
The photographs were taken during the fundraising show in Aug. Show casing local young talent and rasing funds for an orphanage 'Ballar Illam' in Madurai, India. Sri Maharajapuram Srinivasan was the cheif guest for the event.